Young At Art ' YAA'
This section of the website is dedicated to the art group that I am involved in, 'Young At Art'. The art group caters for children, from the ages of about 9 to teenagers, kids who may or may not have an interest in art.
The group meets once a week and explores different areas of art from drawing to 3D.
The following links show you some of the work done by kids of the YAA group: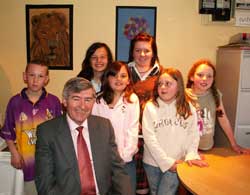 Some of the YAA group at the exhibition held in 2006.